Born in Birmingham, and raised on a diet of Rock'nRoll, Elton John, Black Sabbath and Sinatra, Paul moved to the Isle of Wight aged ten where he soon took up bass and joined a punk band. Spending his teens playing every style of music imaginable proved a solid grounding that would later prove invaluable.
After a few years in revolutionary eastern Europe, Paul Armfield returned to his beloved Isle of Wight in the early 90's to get married, have children, sell books and write songs. His first album Songs Without Words was released in 2003 to wide critical acclaim, his voice being compared to the likes of Cat Stevens and Nick Drake and the music being described as Folk Noir. A big fan of Scott Walker Paul was likewise applauded for his renditions of Jacques Brel chansons as well as his own lovelorn, poetic songs.
With string arrangements courtesy of the Tindersticks' Dickon Hinchliffe, big production by Ian Caple (Tricky, Jan Tierssen), and world class band (The Four Good Reasons) it was an ambitious debut displaying equal measures of Americana, French Chansons and English folk. Several albums followed, each a little more stripped down than it's predecessor. Paul's fourth album, 2011's Tennyson, was an entirely self-made record, a completely bare performance of the poems of 19th century poet laureate and fellow Isle of Wight resident Alfred Lord Tennyson.
Running a bookstore and raising a young family left little time for promotion and although a few tours around europe were squeezed in where possible, dates in the UK were a rarity. But in 2013 Paul gave up selling books to concentrate solely on music and released his fifth album. A return to the scale and ambition of his debut, 'Up Here' featured a stellar cast of musicians on an eclectic range of instruments including Paul Butler from the Bees on charanga, kora and sitar.
The album was extremely well received with the track 'The Speed Of Clouds' proving very popular on radio, it's poetic take on middle-age picking up a handful of celebrity endorsements from the likes of Guy Garvey, Chris Difford and Caitlin Moran.
Paul takes a very workmanlike approach to being a full-time singer/songwriter, endeavouring to put his skills to practical use, seeing it as a trade that should do more than merely entertain. As well as running workshops, and giving lectures, he offers a bespoke service, writing songs to order, about people, about special events, a way of communicating on behalf of someone else.
He is regularly commissioned to write songs to be given as gifts but they have also been used in lieu of speeches, or as very private expressions of grief and condolence. Appointments as writer in residence at festivals such as Larmer Tree and Music Port have seen him writing several songs a day about members of the audience.
Recorded in his front room, Paul's sixth album 'Found' is a suite of songs inspired by a breath-taking collection of photographs gathered from the flea-markets of Berlin by his friend Elinor. With each song breathing new life into each tiny picture, Radio Eins heralded it as 'the best Berlin album ever made'.
In 2016 Paul took up the helm at a local Arts Centre that, in the absence of core funding, needed fresh impetus to revive it's fortunes. The three years spent there left no time for his own creative ventures so he recently stepped down as manager to focus on recording a new record in Stuttgart with friends Max Braun (production and bass), Giulio Cantore (guitar and cavaquinho) and Johann Polzer (drums). Provisionally titled 'Domestic' the songs explore the nature of home and belonging, inspired by changes in his own home life with children leaving home, and the more widespread turmoil and divisions being created by brexit and immigration.
As well as his own music Paul can be found most weekends playing Double Bass and Musical Saw with various local bands, playing everything from 1930s Jazz and hula, to eastern European gypsy music. Occasionally he'll appear on other releases, you can hear his double bass playing on the best-selling Michael Kiwanuka single I'm Getting Ready and the more recent jazz noodlings of Greg Foat.
source : www.paularmfield.com
Top Tracks 1
Why should it be that a man gets bored 2
The Speed of Clouds 3
You Will Be Loved Again 4
Shhh 5
Migration 6
The Morning After the Storm 7
vapour trails 8
The First 9
Little Birdie 10
what every mother fears
Top Albums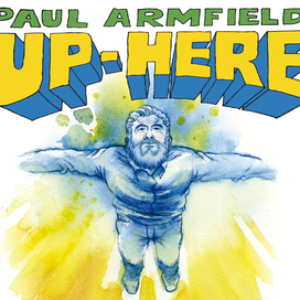 Songs Without Words
tracks